This post may contain affiliate links. Please read my disclosure for more info.
"An image is worth a thousand words" is a more popular adage in multiple languages.
A recent finding did beat the image out:
One minute of video is worth 1.8 million words, according to the research of Dr. James McQuivey of Forrester Research. His reasoning is very simple if you take a close look at the growth of social media platforms and you sit down to crunch the numbers, you would know how he arrived at this number and be utterly convinced that the fact is true.
Want to know more?
Video marketing is the most important content marketing strategy that has revolutionized marketing which has been used for a long time. 
People use video as a tool to share their ideas in a more convenient way and better understandable manner. By doing so, they're making decent money.
You can use video to market on a variety of social media platforms such as Youtube, Facebook, Twitter, etc. But, this article is about content marketing on Youtube to make money without footing the bill to sell products like other platforms.
YouTube lets you create videos about anything you want. Imagine, for example, that you would like to document your weight loss journey. For that, you can create videos. If you want to make money with entertainment videos, you can do that too.
The challenge is not at all doubtful when it comes to making money from engaging videos.
Moreover, if pouring your money down the drain or spending your money before making a profit is your actual pain point, YouTube is a great way to make money.
You can still make big bucks with Youtube in 2021. Though Youtube is considered not a piece of cake when you compare it with blogging, it is still doable to become a millionaire using Youtube. For anyone who wants to start a blog for less than $35 per year, Hostinger provides the best web hosting plan for newbies.
From Youtube, you can make money from anywhere you want and you don't have to get paid peanuts from your employer. You can work from home, travel anywhere and make money by being your own boss. The benefits of Youtube are endless and they are:
Global audience

Greater chance of visibility in Google search results

Qualified traffic

Branding

Credibility
Good content is what engages the audience and it is the most important factor to succeed on Youtube and make money. You should always bear this in mind every time you create a video.
Here are some interesting facts to support the notion that Youtube is the best place to promote your content:
Youtube is the second-largest search engine on the planet

Monthly active users on YouTube exceed 2 billion

The US accounts for 16.5% of Youtube's web traffic

Over 1 billion hours of YouTube video content are watched daily, and over 500 hours of videos are uploaded every minute

More 18-34 year olds watch YouTube than any other TV network

Subscribers to the most popular YouTube channel number 171 million

Ryan ToysReview is the highest-paid ($29.5 million) YouTube channel
By seeing the above statistics, you will surely come to know that Youtube is the best platform to make money by creating quality content.
Let's see the meaty details now.
1. Niche selection
Niche selection is the first and most important factor which plays a major role in determining your Youtube channel's success ratio. When choosing a niche, you should be aware of the topic you're going to talk about, and you should focus your efforts on just one single niche to scale the business.
It's a more standard approach too for beginners to start a single niche channel to easily make money.
Discover what is valuable for you to write about and discover what topics you are interested in. Or, loving the profitable topic, researching more about it, and creating videos, effortlessly leads you to success.
You can't make money out of just uploading a random video on Youtube. Claiming to do so simply scams others. Primarily, your niche and skill determine your success.
Here are the best niches that exist primarily for Youtube, which usually get more views:
Food, Recipes, and Cooking

Tech & Gadgets

Life Hacks

Top Lists

Gaming

Luxury

ECommerce & Dropshipping

Real Estate

Health & Fitness

Unboxing

Stock Exchange & Markets

Fashion & Beauty

Entertainment

Animals

Business

Affiliate Marketing

Finance & Insurance

How-To's

Tutorials

Vlog

Photography

Travel
Taking all these niches into account, you can easily make great money in specific niches within a short span of time. These niches are called High CPM Niches and they are very competitive. 
A rule of thumb is that the more competition a niche has, the more money you can make.
Does CPM vary so much from video to video?
Yes. Of course, unless you're making videos about a single niche.
By uploading videos to YouTube, you are making your videos available for advertisers to show ads on. Each time your video is viewed, an advertiser will pay you to place ads on it. 
The amount they pay is determined by the competition in the niche of the video. As more competitors compete for advertising space, it becomes more complicated and expensive to get their ads displayed. Since showing their ads will be more costly, you can make a lot of money as a video creator.
It is possible, for instance, for some technology gadget ads to be less than $1 in ad value, whereas some insurance ads can be worth over $20. The insurance videos you make in this scenario are much more likely to make you money than the gadgets.
To know more, let's look at the high CPM niches below:
Affiliate Marketing

E-commerce and Dropshipping

Real Estate

Personal Finance

Trading and Investing

Stock Exchange & Markets

Gaming

Content Creation (For Youtubers or Bloggers)

Product Reviews

Fashion and Beauty

Food and Cooking
Even if any of your videos don't reach millions/crores of views in these high CPM niches, you will easily make millions of dollars in no time since these niches offer a large number of opportunities to earn more and more.
Select the one that appeals to you. If you find it difficult, you can follow the below 4 simple steps:
1. Estimate the audience size
Select a niche and think about a video you could make for your niche. Come up with the keywords for your video and plug those directly into the Youtube search bar. As you can see from the views each video receives, you can estimate the size of your niche audience.
Alternatively, if you find more than 20+ million results in Google for your niche videos, then there are already numerous YouTube influencers who have forged their own paths, so getting a foot in the door will be difficult for new YouTubers. Producing valuable content consistently, however, will eventually make you stand out.
Picking a niche that has less competition will ease your journey to attain success. If you see a search result that brings less than 500k or 1 million videos, it's not going to be a tougher job than the previous one.
2. Discover your uniqueness
It would be best if you were unique to make millions on Youtube. With a chock-full of YouTubers who have been influencing the market with their high-quality content, you should develop your skill or use your skill differently to make money on Youtube.
Just think about how you talk, introduce the topic, what elements you add to your concept, what thumbnails your videos have, how you handle the camera works, and what effects you add. Small details like these add to the uniqueness of your videos.
It is therefore essential to add your uniqueness wherever possible if you wish to develop your own brand and get more views.
3. Determine the earning potential of your niche
In the same way as blogging, you can make money on Youtube through ads, affiliate marketing, sponsorships, etc. However, it would be better to earn more money on the side than just ads if it is possible to find sponsorships or affiliate marketing programs in your niche.
Sponsorships can be lucrative and difficult to land, but you are not concerned about this if you can reach a large crowd. For you to maximize the opportunities for sponsorship, you should identify a niche where a variety of high-value brands are willing to partner.
4. Provide enough content
Being consistent and patient is crucial if you want success on Youtube. Not only does doing hard work yield you the results you want but also smart work plays a major role.
If you don't consistently post on YouTube or if you spend a month creating a single video, it isn't going to help. You need to absolutely love your topic and be inspired by your niche as well as you should post videos consistently on Youtube.
Firstly, think of at least 10 videos you can make in your niche so that you know what videos you can make after 1 or 2 years down the line.
When you take these 4 steps wholly, you can easily choose a niche.
If you are still stuck in the niche selection process, I recommend you enroll in the course of Matt Par - Tube Mastery and Monetization (2.0) - where he gives more in-depth details and a specific roadmap to succeed in Youtube. Additionally, he explains how to choose the niche in more detail.
---
2. Create Your Youtube Channel
It might seem harder to start a Youtube channel than to get started with a social media network. But it doesn't have to be since it's relatively straightforward, and creating your channel won't take more than a few minutes.
You can share, watch and comment on any Youtube video using a Google account, using which you can also readily create your channel at no extra cost.
1. Sign up for a Google account if you don't have one. Or Sign in directly to your Gmail account.
2. Next, go to YouTube.com, and you will automatically see the account at the top right corner, or you can click "sign in" to sign in.
3. Click on your profile icon to create your channel.
4. Clicking on the 'Create your channel' link lets you create a channel using your existing Google account and custom brand account. If you specifically want to use Youtube for your business, then you should select a custom brand name for your channel.
A brand account on Youtube can give you access to Youtube Analytics, which provides information about who is watching your content and which is most popular.
By creating a brand account, you can also give admin access to others in your team, and this will really be helpful when your business has more than one to manage.
5. Customize your Youtube channel by clicking through the 'Customize Channel' button in your channel dashboard. Now, you can see the three tabs – Layout, Branding, and Basic Info.
You can fill in all the details in these sections to optimize the channel and get the audience easily discover your channel. Let's go through the easy to harder part:
Under the Basic Info tab, you can add descriptive keywords to the Description section that will help your account appear in search results. The keywords you choose should be of your niche's specific or broad topics or the questions that are generally asked in your niche.
It would be more comprehensive to use 3+ keywords in your description to let Youtube know about your channel's niche and existence.
make money online
work from home
small business ideas
budget travel tips
The URL for your Youtube channel would be created and displayed under the Basic Info tab. This would be an ID-based URL.
A custom URL can be created and to do so, your account must:
Have 100 or more subscribers

Be at least 30 days old

Have an uploaded profile picture

Have an uploaded banner image
If you have a blog or website, you can add your site by clicking through the 'ADD LINK' button under the Links section.
Under the Branding tab, you can add your profile picture that will appear where your channel is presented on Youtube. Image of 98 * 98 pixels and 4 MB or less with a file type of PNG or non-animated GIF is allowed for profile pictures on Youtube.
The banner image will appear across the top of your channel. To get your banner image easily seen on all devices, use an image that's at least 2048 * 1152 pixels and 6 MB or less.
The watermark can also be added to your videos to easily avoid copyright issues. An image of 150 * 150 pixels and file types such as PNG, BMP, JPEG, or non-animated GIF with 1MB size is allowed to use as a watermark.
Under the Layout tab, you can add videos to the channel homepage in the Video Spotlight section. You can add a trailer for people who haven't subscribed. The below 3 main aspects of the video should be added to your channel's trailer to increase your subscribers:
The things you create

What viewers can expect from your channel

What it does to encourage people to subscribe
You can also add featured videos for returning subscribers so that you can let them know how valuable they are when they become your audience.
In the Featured sections, you can find the option to customize the layout of your channel's homepage so that you can present the videos in 3 main formats:
Videos – Uploads, popular uploads, short videos (live now, past live streams)

Playlists – single playlist, multiple playlists

Channels – subscriptions, featured channels you want to show on your homepage.
Once the Channel Customization is done, you can head over to the Settings section from the same page. In the settings popup, under the General tab, you can choose your currency unit depending on the country you live in, and the default one is USD.
If you click on the Channel tab, you can find three sections: Basic info, Advanced settings, and Featured eligibility. With the basic info section, you can add the country of residence and the keywords you can add to your channel. The keywords you add here help Youtube's algorithm better understand your channel to find the correct audience to show your video.
In the Advanced Settings section, you can set your audience, control the automatic captions, display your channel's subscriber count, and disable interest-based ads. The interest-based ads shouldn't be disabled since they may impact your revenue.
In the Feature eligibility section, add-on features can be enabled that helps you to upload videos longer than 15 minutes, live stream, claim appealing content ID, etc.
Under the Upload default tab, you can add the following details in the Basic info section:
Title

Description

Visibility (Public, private, or unlisted)

Tags
Usually, a Youtube channel description and visibility are not changed very often, and the same applies when you upload any video. However, it all depends on your channel's setup. 
In the description, you can add links to your social media, channel subscription link, affiliate links, some default descriptions, etc.
Adding the above details to this section saves so much time that you don't have to add them every time you upload a video. When you bulk upload videos, this will really be helpful.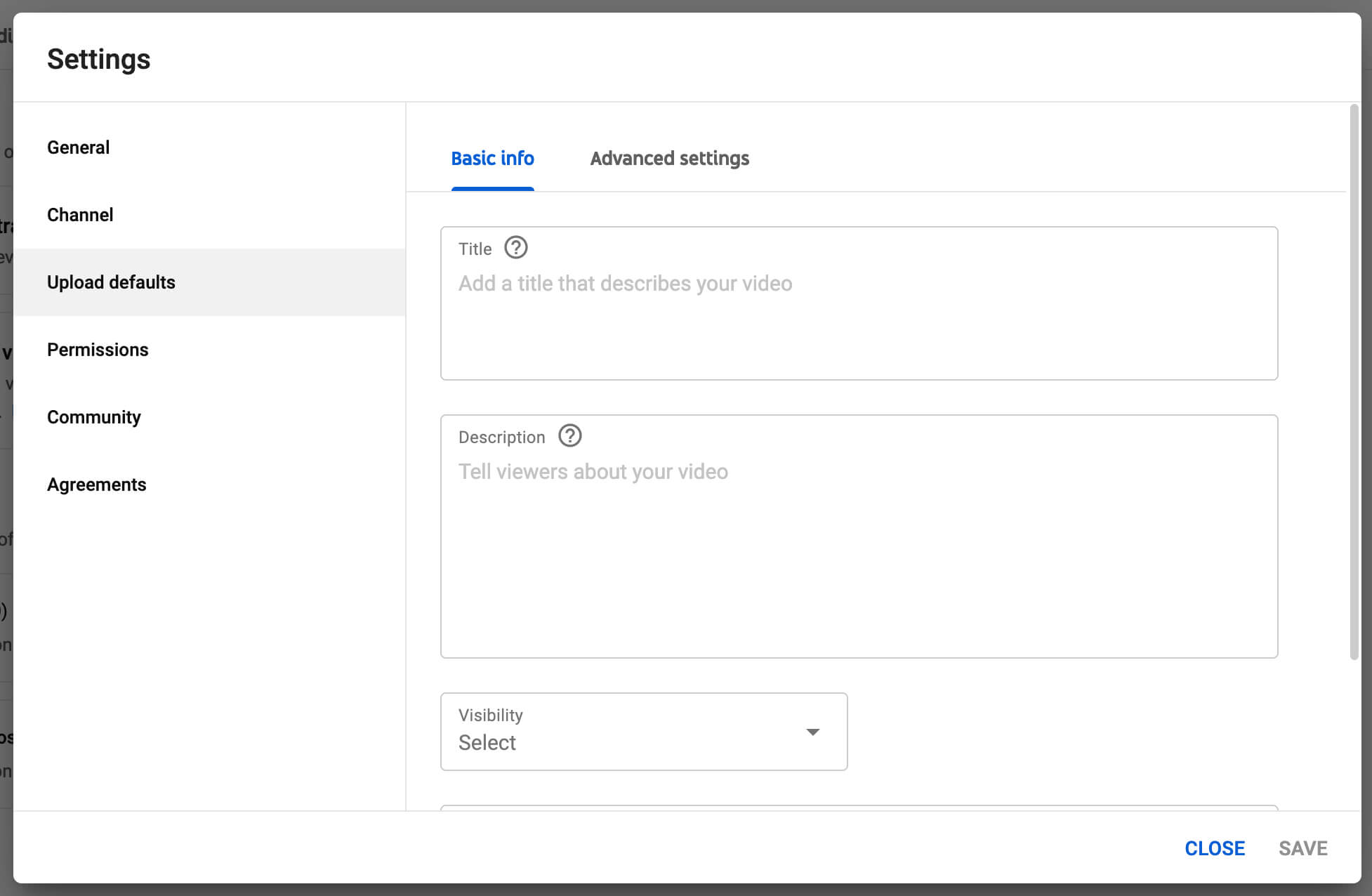 You can add a license type, category, original video language, caption verification, title, description language, and comments visibility in the Advanced Settings. You can also enable user ratings (likes and dislikes) here.
Each team member can have their permissions changed or added via the permissions tab.
Within the community tab, you can add other channels to moderate the comments that appear on your channel, add approved users whose comments are always posted on your channel, hide specific users' comments, and block inappropriate words. Furthermore, you can block/review URLs that get added to your channel.
You can manage the comments added to your channel using the 'Defaults' section.
Apart from these two main sections of the Youtube channel, if you take a look at the left-most section, you can see the below tabs:
Dashboard – Provides a high-level overview of new activity on your channel

Content – Helps to give you an overview of your videos and live streams

Playlists – Allows you to create and manage playlists

Analytics – Gives the metrics used for analyzing the performance of your channel

Comments – Enables you to view and reply to the comments on your videos

Subtitles – Enhances your video views in other languages

Copyright – Helps to raise copyright takedown requests and view the copyright claims made on your video

Monetization – Allows you to update merchandise and membership settings

Audio Library – Gets you free music and sound effects to use in your videos
Now, you would get an understanding of all the core elements a Youtube channel has. Let's move on to the content creation and promotion part of the topic.
---
3. Create content using Youtube SEO and promote it
When you create your content, you should consider concentrating more on Youtube SEO, which is the most critical part of this section. Without it, you can't rank your videos in the top search results and make money and it's a sweet warning!
SEO stands for Search Engine Optimization.
Technically, every search engine uses its own (semantic SEO) algorithm, and Youtube employs its own search algorithm to crawl and index YouTube videos added to the platform, to choose the most relevant search results.
This algorithm tends to change a lot over the years, but it isn't very often. Youtube would change its algorithm whenever it finds some loopholes exist in its SEO algorithm and people are taking advantage of them without doing anything useful.
In 2021, Youtube has evolved into a more serious game-changer of all time, and it's now only the second most popular search engine after Google (its parent company). Some of the key techniques you read before 2021 are obsolete now.
You can see how you can create your content with the 3 common main elements of Youtube that are still relevant in 2021.
1. Keywords
What keywords you're targeting for your video determines your success, firstly. Keywords are the words that help Youtube understand your video better at the initial moment.
You have to find the right keywords for the video you're going to create. This can be done in 2 simple steps:
1. Collection of keywords:
Visit Youtube and type the topics that come to your head related to your niche in the search bar to see the suggestions coming over there.
If you're a newbie Youtuber, you can create your videos based on these suggestions. You can also use a tool called Tube Buddy, which has a freemium pricing model.
You can install the free Tubebuddy plugin in your Chrome browser and sign up there straight away if you want to start using it, given that you already signed into your Gmail account.
Now, you can visit Youtube and search for the same query. You can view the Search Explorer of Tube Buddy in the right section, which gives you the related searches made for the query. But it comes with limited functionalities and you can unlock more features once you upgrade to their premium version.
Using these two main methods, you can easily get to know what you can cover for the next time. But, before doing so, let's check the volume of audience you have for this query.
2. Find the volume of keywords:
Go to Google and type in what you're interested in creating a video about. You can see the competition of your topic based on the number of search results it returns. For example, say that you want to create a video about weight loss in the Health & Fitness niche and search for the keywords you want to add, then type the below.
weight loss diet site:youtube.com
Searching for this above query can yield a number of searches that have been made for the same on Youtube. For this query, I can see 840,000 results on Youtube.
You can further drill down on this query to find a less competitive topic to make a video about.
weight loss diet plan site:youtube.com
The volume of keywords can also be found using TubeBuddy. Using the same Search Explorer of the tool, you can find the search volume, competition level, and overall competition score.
Using the tool, you can easily find the related keywords for your topic.
2. Tags
Unless you upgrade to the paid subscription plan, Tube Buddy cannot help you find tags more easily. We can take a different approach and search with the keywords collected previously.
Once you hit the search bar and start seeing each video coming up on the list, you will find the tags on the right side that the video uses when you watch each of those. 
This way, you can collect tags for your videos. But ultimately, opting for a premium plan can save you much time and solve your problem instantly. Tags shouldn't be underestimated in 2021 since it is still relevant too.
3. Metadata
The metadata about a video tells Youtube more about it. Generally, the main elements such as the title and description are what are considered as metadata. But metadata is also about thumbnails, cards, captions, and much more.
Adding the specific keywords to your title, description and all your metadata will help your videos get views in the beginning.
Now, you would get an overview of some of the basics of Youtube SEO. But, in 2021, you have to work harder and also consider other factors. Since these are all the common ways people create videos, your videos can't go viral with these techniques.
According to the recent Youtube algorithm changes, you must consider the following 4 prominent hacks to rank your videos on the platform.
1. Click-through rate
With the two factors, such as impressions and views, the click-through rate is determined. Upon publishing a video, it will display to the relevant audience, and the impression is calculated from the moment a user views the thumbnail of your video.
As soon as a user starts viewing your video, the impressions turn into views. The Click-through rate lets you know how many of your YouTube impressions turned into views.
It is extremely important to focus on your thumbnails to increase click-through rates. Ideally, thumbnails should be 1280 x 720 pixels with a minimum width of 640 pixels, and previews and players should have a 16:9 aspect ratio. Green, grey, and blue colors that contrast well with the colors (red, black, and white) in the YouTube icon work well in thumbnails.
2. Engagement rate
Engagement rate refers to the shares, comments, likes, and subscribers you get after people watch your videos. Your video will rank higher in the search results on Youtube if you get a better engagement rate than other videos on the topic.
Some Youtube experts use multiple-choice questions or shout-outs to showcase the commenter who provided the best response to increase customer engagement. These are all known as CTA or Call To Action.
Moreover, you could promote a giveaway so that many people can watch your video and you can further increase your viewership.
3. Audience Retention
The third factor is audience retention, which measures how much time people spend watching your videos. It would be best if you kept your audience engaged for a longer period of time.
People who make tutorial videos have a tendency to retain a maximum audience. You can also make videos on other topics to keep your audience engaged for longer. When you add a long video, you can include as many advertising spots as you wish. Any videos which are longer than 8 minutes work better.
4. Embedded Videos
The more embedded videos you have on your blog, on your website, or elsewhere, the higher they rank in Youtube search results. In particular, the YouTube SEO Ranking Factor Study done by Justin indicates that the number of domains that are embedded and linked to your video is a key determining factor for the overall ranking.
Therefore, if you have a blog and share your video content across all of the social media platforms, you will improve your ranking on Youtube. It only costs you a cup of coffee a month to start your own blog with Bluehost if you don't already have one. It is also the best web hosting company that is user-friendly for beginners.
And, you can regularly post videos on social media platforms like Facebook, Twitter, Quora, Reddit, etc. When a large number of people add backlinks to your videos, it signals Youtube to give an additional vote for your videos to rank higher.
5. Meaningful tags
In 2021, tags remain valuable, so you should add meaningful ones to Youtube and avoid adding hundreds. Firstly, add three to four contextual tags and append 3-4 synonyms of those tags. Then add the categories of your tags.
By doing this, Youtube is notified that your videos pertain to the specified topic.
In order for your video to do well with YouTube SEO, you should keep all of these factors in mind as you create and promote it. Without considering all these factors, ranking well and making cash would be incredibly difficult.
If you want to know more about Youtube SEO and make money, you can enroll in the course of Matt Par, Tube Mastery and Monetization (2.0). He runs 9 different Youtube channels, and he has already made millions of dollars. He has also racked up over 300 million views and more than 2 million subscribers.
One of his coolest formulas, the 33 rule, made him a millionaire at a very younger age. This formula has earned him tons of money through Youtube, so he uses the same for all of his channels and teaches us about it in the course.
Join the course using the webinar link here.
---
4. Make Money With Youtube Channel
Making money with your Youtube channel can be fairly easy if you reach a larger audience. When you significantly increase your viewers, you can see money coming all your way. The strict rule is to create more engaging videos using Youtube SEO to rank higher.
Below are the channels that make most of the money on Youtube in 2021:
Ryan's World – $29.5 million

Dude Perfect – $21.5 million

Daniel Middleton – $19 million

PewDiePie – $18.5 million

Markiplier – $18 million

VanossGaming – $18 million

Rhett & Link – $17 million

MrBeast – $16 million

David Dobrik – $16 million

Jacksepticeye – $16 million
Taking inspiration from these people could help you make money quickly if you are on the right track.
There are also a few takeaways from this list, putting aside the millions of dollars made and subscribers gained. 
First of all, YouTube channels can be monetized even if they don't have millions of subscribers. Regardless of how many subscribers and views you have, your earning potential is determined not only by your subscriber base but also by your engagement level, the niche you value, and the sources of income you choose.
In addition, this list of top 10 earners might suggest that one can directly make big bucks on YouTube. As a matter of fact, each of these channels has been monetized to the fullest extent possible. In order for you to make money on YouTube, you need to have a clear understanding of your target audience and SEO.
Like blogging or any other marketing channel, you can create multiple revenue streams on Youtube too. Your videos and your audience determine your earning potential.
Let's look at the ways one can monetize his/her Youtube channel.
1. Join Youtube Partner Programme
Ads will likely be the first revenue stream you explore. To earn money on YouTube as a content creator, you need to join the YouTube Partners Program and set up monetization. To join the program, you need a minimum of 1,000 subscribers and 4,000 watch hours in the previous 12 months. 
Once you created your channel, click the Monetization tab on the left. If you're under the threshold, click 'Notify me when I'm eligible to get an email'. You'll receive an email when you've reached the eligibility criteria. If you meet the threshold, click Start on the "Review Partner Program terms" card.
Make sure you connect your channel to your AdSense account to get paid and if you don't have an account, sign up for it. After you submit the account for review, human reviewers would check your account whether all the community guidelines are followed.
https://studio.youtube.com/channel/UC/monetization
If your application gets approved, monetization will be enabled and ads will be shown in your videos so that you can make passive income.
Youtube Premium is a subscription service that allows users to watch their favorite videos without ads. By viewing your video, YouTube Premium members pay you a portion of their subscription fee. Fortunately, this one is automatic now and it's the secondary income you earn in addition to what you earn from ads. 
YouTube keeps a 45-55 percent revenue share from the content creator. As a content creator, you must adhere to its advertising guidelines. Content that contains foul language, adult content, violence, and other subjects will not have ads placed against them. This can include discussion of sensitive news events.
2. Join the Affiliate Programs
The easiest and best way to make money on Youtube is Affiliate Marketing, like blogging. To make money, you can effortlessly join any Affiliate Networks or Affiliate Programs to simply promote their products and sell them through your channel.
Affiliate Marketing is nothing but a middleman's job of selling other people's products and earning a commission for doing so.
Amazon Associates Program and other E-commerce affiliate programs are out there that allow affiliates to promote their products and earn commissions. The best affiliate networks/programs to join in 2021 on Youtube are:
Amazon Affiliate Program

ClickFunnels

ClickBank

Etsy

Rakuten

ShareASale

Fiverr

Shopify

Maxbounty

Bluehost

eBay
If you want to know more about Affiliate Marketing, you can join our free How to Start a Blog: A 6-day Email Course and get a free ebook: Affiliate Marketing – A Complete Guide.
3. Sell your Merchandise
You can almost sell anything, you name it. The most common products that people merchandise on Youtube are:
T-shirts

Bags

Posters

Stickers

Cups

Books

Bracelets

Snapbacks
Your YouTube channel can also help you earn money by selling a wide range of other products. To be eligible for this merchandise, you should:
Be a member of the YouTube Partner Programme (YPP)

Have more than 10,000 subscribers
Merchandise drives your brand and personality out into the world and deepens the relationship between you and your fans since they can literally "buy" into what you are doing.

Using the merch shelf, YouTube allows eligible creators to display merchandise they have branded. The shelf appears on the video page of eligible channels, but may not show on all video pages. The merchandise shelf will display up to 12 products to your viewers.
This means you will be in competition with other YouTubers, and you can't add products, offer discounts, integrate your content, and enjoy the entire set of benefits that come with owning your own e-commerce (dropshipping) site.
The ways you can improve your merchandise are endless and a few of them are:
Feature your fans who have bought and are using it.

Put on your merchandise whenever you record content, short videos, or intros.

Create a community around your merchandise by giving out giveaways or fan shoutouts.

Give your audience an easy way to locate your merch in your channel description and in the bio sections of all your social channels.
4. Create sponsored content
Another method of making money with YouTube is sponsored content. Inspire your audience to engage with the videos sponsored by brands that match their interests. This will increase the effectiveness of sponsored content and achieve greater reach and engagement.
YouTube influencers may naturally mention a brand or product in their content, create content that features a company's product or service, or include an endorsement from a company they've partnered with.
Also, you can post roll ads and end cards, which are the advertisements shown at the end of a YouTube video. Generally, these appear in the last 15 to 30 seconds of the video. Visitors can be directed to the sponsoring brand's site or channel when the post-roll starts.
You can work with both small and large brands to offer referrals, or simply mention the brand when making content. The best part is that you don't have to pay a piece of your earnings to YouTube for sponsorship. Instead, you can work directly with the brand.
YouTube-sponsored videos integrate the brand, product, or service into an influencer's content while providing social endorsements. 
Ingrid Nilsen is the most popular Youtuber who sponsors every single product she comes across. You can learn a lot from her.
5. Let audience support through "fan funding"
Providing access to your audience for donations is also possible through "fan funding" programs.
When you contribute to the internet as a creator, your audience doesn't have to pay for your offerings. However, if you provide good content, your audience may be inclined to support you long-term.
There are many fan funding platforms that allow creators to expose their content to a wider audience and reward their most supportive fans.
Take a look at the best crowdfunding platforms in 2021:
Patreon – Recurring and one-off funding

Indiegogo – one-off funding

Kickstarter – one-off funding

Tipeee – Recurring and one-off funding

GoFundMe – one-off funding

YouTube Sponsor button – Recurring
Among all these platforms, Patreon simplifies the process of getting paid. Subscribing to creators' content costs as little as one dollar a month, and subscribers can receive exclusive rewards.
Occasionally offering exclusive content and engaging with your audience lively will also interest your subscribers more. YouTube's Super Chat and Super Stickers are the features available to bring some nice revenue when going live on the YouTube platform.
Viewers often send in monetary contributions along with their messages while live streaming. In exchange, the donors can pin their names and messages during a specific period in the live chat, and you can publicly thank them.
Note: Google launched YouTube Giving, a fundraising tool for non-profits, in the United States, the United Kingdom, and Canada. If you're a part of the YPP and have 10k subscribers, you're eligible for them. Goats of Anarchy, a New Jersey-based sanctuary for animals focusing on goats with disabilities ranging from blindness to mobility impairment to neurological disorders, can now host their own fundraisers with YouTube Giving.
6. License your content to the media
Any funny YouTube video can become super-viral and a subject of memes. And it can earn mentions in major media, and make the creator an instant celebrity.
When the video gets a lot of attention, it could be put to great use by licensing it to media houses that might be interested in streaming rights.
All news outlets, morning shows, and other creators want a copy of a viral video they can use to replay it for their audience. Since these established media companies know that they need to pay for what they use, they do not hesitate to do so. Voila! Another way to earn money from YouTube!
You can also list your videos on marketplaces such as Jukin Media, Storyful, Viral Hog, Video Elephant, and Newsflare, where your content will be easier to discover and purchase.
I believe you could probably license any cute and funny videos you have of your dog, your children, your cats, or any other adorable creatures.
These are all the main ways you can make money from Youtube. Now let's move on to the topic of how you can grow your Youtube channel.
---
5. Grow your Youtube channel
Successfully running a YouTube channel involves more than just posting videos and choosing a topic. The high level of competition on the platform means that you must devote time to marketing and managing your channel in order to attract new subscribers and ensure that your existing fans have a great experience.
That's what differentiates a channel that gets more viewers and more followers by the day from one that doesn't do well. However, most YouTube creators do not take the time, which is why there are only a handful of breakout YouTube stars at a time. 
In order to set you up for a successful 2021, I have put together this list of 7, including the best YouTube course, marketing, and channel management tools.
1. Tube Mastery and Monetization (2.0)
The course – Tube Mastery and Monetization (2.0) – is the best Youtube course available in the market that helps you get better insights into the algorithm and consistently create viral videos. 
It covers all the aspects that easily let you select a niche, create a channel, craft the content, make the videos, grow the channel, earn money, create another channel, and outsource the overall work (once you have grown your channel).
He also teaches us about the strategy that took him to grow his YouTube channel to 500,000 subscribers in just one year. You can also learn secret algorithm growth hacks, tips, and strategies for growing quickly and going viral from his course.
The founder of the course, Matt Par, operates eight niche channels and one main channel. With over 2 million subscribers and 300 million views overall, he has a large following. His goal is to help everyone with Youtube!
Enrolling in his course will allow you to be among a community of 1,000+ people who share the same interests as you. You can make friends, network, exchange ideas, and clarify your doubts with people from the same YouTube community.
Also featured in Forbes, Market Watch, Disrupt, IBT, and others, Matt Par's works are admired by many.
If you want to know more about the course, join the webinar here.
2. VidIQ
VidIQ is an easy-to-use YouTube-certified tool that can help you rank higher, improve watch time, gather meaningful tags, and maximize social media shares using its advanced Youtube SEO features. 
Furthermore, it guides you with personalized tips and tricks for growing your YouTube channel. It includes a top-level view of YouTube Analytics, keyword research tool, competitor analysis, trending video alerts, comparison of video stats, thumbnail generator, and live stats updates.
Today, one of the most important moves a YouTuber can make is to tap into trending keywords. Using VidIQ to analyze SEO and research keywords on YouTube is incredibly simple, and its keyword prediction and automatic feature save you a lot of time.
Most boring and repetitive tasks can be completed within a few minutes with this tool, allowing you to focus on more meaningful tasks.
VidIQ is the winner when you compare it with the other tools (Tube Buddy, Tubics) and it's the most preferred Youtube management tool for the majority of YouTubers. It lets you analyze your competitor's data so that you are able to up your game in terms of your own content and measure your performance continuously.
With a free plan, you can only enjoy the limited functionalities of the tool. If you want to reap the full benefits of VidIQ, you need to pay for their premium plan which costs $7.50 per month.
In 2021, VidIQ is available as a plugin in both Chrome and Firefox browsers. By using VidIQ's website, you can also perform YouTube SEO.
Download your free VidIQ plugin here.
3. TubeBuddy
TubeBuddy is also one of the best management tools for YouTube, complete with powerful features that will help you maximize your efforts on the platform. The best part is that all of these features are accessible right within the YouTube interface.
The majority of Youtube users use TubeBuddy for linking hundreds of videos on their channel, and adding, updating, or removing end screens, cards, and descriptions in bulk. A/B testing thumbnails can also be performed to see which performs best.
To use these above options, you need to pay $15.20 per month for the star plan though the basic pro plan starts at $7.20 per month.
Using TubeBuddy as an extension will allow you to run it from within your browsers, such as Chrome or Firefox, and you're not required to switch between an external tool and the extension.
Among the most notable features of TubeBuddy are the Tag Explorer, GIF Generator, Brand Alerts, and Competitor Scorecard. Despite being full of all these impressive features, you can easily perform advanced Youtube SEO with VidIQ over TubeBuddy since it is the ultimate tool one can use to put the game away.
But, TubeBuddy offers quite a lot with its free plan. If you're a newbie Youtuber, you can also use this tool.
Download the free TubeBuddy extension here.
4. Adobe Products
To create a high-quality and professional video, you can go for Adobe products such as Adobe After Effects, Adobe Premiere Pro, Adobe Spark, etc. Since it's the market leader in the graphic design industry, it offers a lot so that you can outrank your competitors by creating more engaging videos.
With Adobe applications, you can do everything from creating the perfect thumbnail to working with powerful animation effects to editing cinematic videos. 
Video creators use Adobe Premiere Pro to turn clips into stunning works of art, and it is one of the standard tools used in Hollywood. It also allows you to bring in motion graphics from After Effects.
5. Canva
Are you a newbie online marketer seeking a more effortless and cooler graphic design tool?
Canva would be the best option because it is probably the most popular online graphic design tool, with over 30 million users. This tool can help you to create beautiful thumbnails for your videos with its professionally designed templates. Even newbies can create awesome thumbnails with its drag-and-drop interface.
With its free plan, you can access over 200K Photos, 75 Audio Tracks & 6 Animation Effects, 250,000 graphic templates, 57K graphic elements, and 13K videos for use in your designs. 
Creating the thumbnails for your video and even editing can be done in minutes using Canva. If you are bored with the free templates it offers, you can upgrade to the premium plan, which offers more and more animation effects and graphic elements.
Design your graphic elements here in Canva.
6. YouTube Studio Audio Library
A song/audio that another party copyrights may not be used as the soundtrack to a video that you intend to monetize on YouTube. YouTube's Content ID system can block your video or overlay copyright-specific advertising over a copyrighted song/audio.
YouTube itself offers a solution for this as well – YouTube Studio Audio Library – where you can find free music and sound effects that you can incorporate into your videos, so you don't have to purchase a track for your video.
You can find these collections in the tab of Audio Library once you're inside your Youtube channel.
7. Rev.com
Your videos can be shared with a larger audience by using subtitles and captions, including viewers who are deaf or hard of hearing and those who speak a foreign language.
Rev.com provides audio transcription, video captioning, and subtitling services. A large number of Rev transcriptionists are native English speakers with the largest network in the U.S. so you can target a global audience with the right subtitles and captions.
As well as winning PC Mag's Editor's Choice Award for transcribing audio and video files, it has also been featured on sites including Forbes, The Penny Hoarder, Tech Crunch, and The Wall Street Journal.
Get your captions done in Rev here.
Bonus Section
1. Social Blade 
Social Blade is one of the most well-known and essential tools you can use to track your own statistics or look up your competitors on YouTube. It also provides the same on Instagram, Twitch, and Twitter.
Want to know how much a Youtuber earns or how many views he gets?
There is a lot of detail and factual information in this tool. It's just being regarded as the best YouTube Money Calculator.
Moreover, it contains capabilities that can identify laser-focused queries and popular influencers.
2. Woobox
Using social media for repurposing your video content is a great idea. Thanks to Woobox, your friends and fans on Facebook can scroll through and enjoy your YouTube content directly from Facebook.
Woobox is a great tool for generating more subscribers, which converts your social media followers into customers. There is a possibility that people do not access your YouTube channel frequently. Yet, it's probable that they're active on Facebook.
This way, you no longer have to rely on your viewers visiting YouTube to see your content.
---
Want to share this post on Pinterest? Pin the below image to boards: 'Start Youtube Channel' or 'How To Start A Youtube Channel' or 'Business Ideas For Women' or 'Online Business Ideas'.
---
Want to start a blog and make money? Join our 6-day free email course: How To Start A Blog and get a free ebook: Affiliate Marketing – A Complete Guide.
---
Do you think of following us on Pinterest? Check out the latest pins here.
---