This post may contain affiliate links. Please read my disclosure for more info.
With online shopping availability, people these days can avoid going out to stores, so they don't have to deal with long lines or crowded parking lots, making it the preferred method for many shoppers out there. Now, suppose you want to save money shopping over the Internet. Then you come across Rakuten as a way to help you to meet that goal.
Here, you can learn the ins and outs of Rakuten and be able to decide for yourself if it is a legitimate website or one that's only trying to scam you.
What is Rakuten?
Rakuten is an online website that gives cash back for every eligible purchase you make online. They also provide users with online deals and coupons, so there is always an option to save money when you're shopping online. 
Rakuten, formerly known as Ebates, has been in the industry for over 20 years. If you're a money-saver, then you would have probably heard about Rakuten or Ebates before. 
There is hardly a difference in your online shopping experience with Rakuten involved because it has partnered with more than 2,500 online stores to provide you with cashback options on countless popular products. Using Rakuten is an all-around good choice, especially if you're a money-saver.
Rakuten.com has an A rating in the Better Business Bureau, and customers often feel good about their customer support, cashback offers, and additional deals. But some customers have also reported either not receiving cashback for purchases they made on eligible items or that money earned after a purchase was inexplicably canceled. You'll see this issue discussed in more detail below.
How does Rakuten work?
Rakuten makes money by getting referrals to purchase goods from retail companies. When you buy a product through their site, the retail company will pay a percentage of that profit to Rakuten, which, in turn, shares the commission with you.
Everyone is limited to one account, and shoppers are paid every three months through PayPal. You can also opt to have checks mailed to your address if you prefer.
You don't need to pay anything to use Rakuten, and signing up is absolutely free. Newcomers also receive a $10 sign-up bonus just for registering an account.
Rakuten website
It is effortless to use the Rakuten website, and you can sign up with them using your Google or Facebook account to get started even faster than it already is. Through their site, you can find the same stores that you're used to and shop online as usual.
You'll see cashback offers listing from 1% to 50% returns from any participating online store. You can especially save money in the holiday seasons, as Rakuten gives out many more offers of a higher percentage during these times. 
After finding the applicable online stores you're interested in, simply click the "Shop Now" button to get redirected to the merchant's site, where you can properly make your desired purchase and earn the cashback you seek.
Rakuten browser extension
The Rakuten browser extension is another tool to help you make cashback quickly and easily whenever you shop online. When you install the extension on your browser, you won't need to go to the Rakuten store every time you want to make a purchase.
The extension shows the available cashback offers at the top right corner of your browser whenever you visit the partnered online store. If the store you're looking at doesn't have any current cashback offers or deals, then the extension provides you with information on other cashback stores that could have what you need.
Never miss a chance to earn cashback by visiting an online store with the Rakuten browser extension installed.
Rakuten app
The Rakuten app is available for download on iPhone and Android so that you can check for cashback offers on the go, if you don't happen to have your laptop handy, or if you're going for in-store purchases.
You won't feel any real difference in browsing between the mobile app and the website, and you can access all the same features that you would find on their site.
Is it safe to use Rakuten?
Yes, Rakuten is safe to use. 
Rakuten places cookies on your browser, like any other website you would visit to purchase anything or gather some knowledge. When it does so, then only the retail companies you use will know that Rakuten has referred you. Using Rakuten's extension can even simplify your shopping experience without compromising your online security.
Most importantly, any personal and financial information you give on Rakuten is encrypted and secured. So, no worries.
Which stores partner with Rakuten?
There are over 2,500 online stores partnered with Rakuten. Some popular companies involved are:
Macy's

Michael Kors

Walmart

Nordstrom

Kohl's

Nike

Ulta

Samsung

Amazon

Target

Bath and Body Works

Priceline

JCPenney

Best Buy

Barney's

Cabela's
The Rakuten's catch
Customers often report Rakuten either because they couldn't get the cashback for the purchase they made or because the returns were canceled after some time without explanation. These are the main issues that appear to make some people look at Rakuten as a scam. But, it's not usually an issue caused by Rakuten.
Like most other websites, Rakuten needs a cookie in place on your browser so that retail companies will know that they referred you. After they set the cookie, if you click on any other link that interrupts Rakuten's cookie, Rakuten will not get credit for the purchase you made through them, so they can't give out a cashback or retroactively give you credit after they receive their retailer reports.
The same cookie issue also applies to retail companies. As per the general recommendation, you have to visit Rakuten first and make sure you click through their provided links to the retail companies to make your purchases. So, if you want to be optimistic that you'll get your cashback, start with the Rakuten site, and don't open any of your favorite retail company sites first.
Ad Blockers are another issue that can interfere with Rakuten cookies and prevent cashback offers from being activated. Make sure that you check all your below browser settings before making any purchase through Rakuten:
Ad-blocking extensions

Anti-virus software

Cookie settings
These are all the general issues that can prevent you from getting cash back at online stores. It's best to use a different browser or separate device, like a tablet, for online shopping with Rakuten.
How can you make more money with Rakuten?
Not only does Rakuten give cashback on your online shopping, but it also allows you to make more money with other benefits it extends to its users.
In-store cashback
Apart from your typical online shopping, you can also get cashback for the purchases you make in-store. 
When you enter a store, you can open the "In-Store Cashback Offers" tab on your smartphone and select the "Link Offer" for the store you're in. You can enter your payment card details or link your card directly to Rakuten to get the cashback, but my recommendation is to use the same card for all your purchases with Rakuten.
Note: When entering debit card details, select "Credit" while paying. This way, you will sign a receipt instead of entering a PIN, helping Rakuten to keep track of your purchases. 
Rakuten Double Cashback
Rakuten Double Cashback offers always appear in at least one store every 24 hours. To be eligible for the cashback offer, you must visit Rakuten first and then the merchant site, not vice versa.
These special offers run between 12:00 a.m. and 11:59 p.m. PST, and you must purchase Rakuten during that time to acquire the store's aforementioned double cashback.
Travel cashback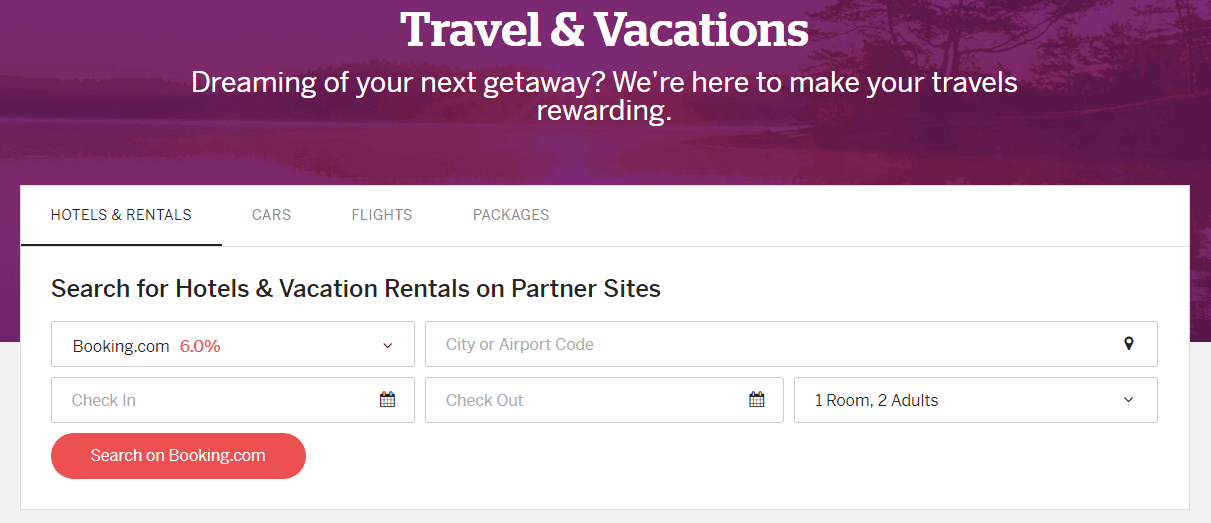 You can get cash back on hotels, car rentals, and flights when you purchase through Rakuten. There are also packages available that can combine your travel costs and save the extra money you would spend making your reservations separately. 
You can find the most famous travel online stores on Rakuten, including Booking.com, Expedia, Priceline, CheapOair, and Orbitz. So, don't pass up on a chance to get money back for any of your future adventures.
Rakuten Visa cashback
Using a Rakuten Visa credit card, anyone can collect an extra 3% cash back on eligible purchases. And, for an unlimited number of times, you're guaranteed at least 1% cash back just for using the card.
For example, if you buy from Macy's store, you can get a cashback of 6% without a Visa credit card. But with the Rakuten credit card, you can receive 9% total cash back when making a purchase.
The Rakuten Visa credit card is 100% secure, and it offers a zero-fraud liability policy, including the best benefits possible, like Price Protection and Return Protection. Also, you don't need to pay any annual fees for keeping your Rakuten Visa credit card active.
What are the pros and cons of Rakuten?
As with every company, Rakuten has its pros and cons, all of which are worth reading up on before signing up.
PROS:
1. Large number of stores
It has a vast number of retail companies to shop with, giving you a better chance of earning cashback from any of the stores you shop at. Also, you can find offers on a large number of products within the many online stores to choose from. You can buy clothing, housewares, tools, toys, and much more, saving money while you do it.
2. Simplicity
Rakuten has a system where you can directly gain cashback values instead of first accumulating points that will then convert into cash at a certain point. Rakuten also makes it possible to earn cashback shopping online or in-store with an app, and by using the Rakuten Visa credit card, giving you several options for consistently saving your money. They make it easy for you to shop on the go when you're at your office, or away on travel. All that's needed is a few simple clicks on the Rakuten app or website before purchasing any products, and you can save yourself a percentage of the cost.
3. Up to triple the cashback
You can get cash back on nearly all purchases you make through Rakuten. The cashback ranges from 1% to 50% and is applied to all the applicable products you buy from their partnered retail stores. Double cashback is offered in-store and with specific daily deals online, while triple cashback can be earned by purchasing products during the holiday seasons and during non-holiday seasons using a Rakuten Visa.
4. Referral program
Rakuten also helps you make extra money when you refer Rakuten to your friends and get them to join. You will not get rich by referring this company to others, but you can still make a little on the side by doing so. You can earn $40 for referring your friends to Rakuten.
CONS:
1. Cashback pays out quarterly
Rakuten pays cash once every three months, so you'll have to wait at least that long to receive any payout, either through PayPal or check. This can be a long wait for people looking to actively and instantly save money.
2. Impulse buying
Rakuten encourages impulse buying and can lead you to purchase unnecessary items while shopping online. It would be best to be mindful while browsing, especially if you're supposed to be on a budget.
3. Permanent account disabling
Specific customers reported that Rakuten permanently disabled their accounts, even though Rakuten did not give any prior notice. It is unclear why the company shut down these accounts, but the fine print provided on their site says that they can do so, which is something to remember before signing up. 
---
Are there alternatives to Rakuten?
Rakuten isn't the only platform for saving money online while shopping. There are a couple of other prominent options that can help you reduce your store bills.
Swagbucks is an online platform that can also provide you with rewards for shopping. You can redeem points for profits, such as gift cards, PayPal cash, or Visa rewards cards.
You can download SwagButton on your browser to help you accumulate the SB points while you shop. The SB points get redeemed for cash, though the amount you earn from merchant to merchant will vary.
You'll also receive a $10 bonus in Swagbucks just for signing up.
---
Ibotta works similarly to Rakuten, but it only gives cashback for groceries. After shopping at any grocery store, you can scan the receipt and submit it to the Ibotta app to earn at least a $0.10 rebate for every receipt.
They also send the money owed to your account within 24 hours, and you can use PayPal or Venmo to receive your cashback.
Ibotta offers $10 for signing up and $20 for redeeming offers on limited-time purchases.
I hope you enjoyed this review about Rakuten. If you have more questions, post them in the comments section below. Personally, I believe Rakuten is legit and not a scam, but what do you think? Let me know.
---
Want to share this post on Pinterest? Pin the below image to boards: 'Online Shopping' or 'Money Saving Tips' or 'Money Saving Hacks' or 'Money Tips'.
---
Want to start a blog and make money? Join our 6-day free email course: How To Start A Blog and get a free ebook: Affiliate Marketing – A Complete Guide.
---
Do you think of following us on Pinterest? Check out the latest pins here.
---