This post may contain affiliate links. Please read my disclosure for more info.
No matter whether it is a get-together party, ceremony, or any other celebration, there should be delectable sweets for us to enjoy on the special occasion. Of course, that is what sweetens up the day of our enjoyment.
What if we happen to face an accidental occasion?
Like, if we receive a phone call from our beloved ones saying that they are on the way to our home. We would start pondering about preparing quick dishes (mostly sweets) that we can make to make the moment even happier.
Actually, in this post, that's what we are going to see. Today's post is about making delicious and mouth-watering "SWISS ROLL CAKES." You can quickly prepare such a superb dessert for your guests while they're on their way, and you don't need to work a lot for that in the kitchen.
Now, let's check out the most comfortable and tastiest ways to prepare a Swiss roll cake.
How to prepare Swiss roll cakes?
You can use the leftover chocolate cake for this. If not, don't worry. You can finish preparing the cake in 30 minutes.
Let's get started.
Preheat the oven to 350° Fahrenheit. Take a bowl, and pour melted butter, sugar, vanilla extract, and full eggs. Batter them well for 2 to 3 minutes. Then, take another bowl, and place a sieve over that. Sieve all the dry ingredients: cake flour, cocoa powder, baking soda, and salt, and mix them well.
Now, it's time to blend both the mix. So, add the flour mixture and warm water to the batter, alternatively. Take a cake tin, grease it with butter or oil (inside entirely), and place a buttered sheet on the bottom.
Now pour the batter into the tin and microwave it for 15 minutes. Don't forget your gloves. While the cake is getting ready, we will move on to prepare the filling and toppings.
Note: If you don't want eggs, you can substitute that with a ¾ cup of vegetable (cooking) oil and ½ teaspoon of baking powder.
How to prepare the cream?
In a bowl, to make the tasty creamy filling put all the ingredients (milk, powdered sugar, butter, and vanilla extract).
Batter them well, and you will get a smooth cream within a few minutes. Then, set it aside.
How to prepare the topping?
For the topping part, we are going to use chocolate glaze. To prepare that, mix the heavy cream and chocolate (as measured) in a bowl and double-boil it.
Stir it until you get (lumps-free) semi-paste-like consistency.
How to prepare the sweetener?
It is not an artificial sweetener that contains chemicals. We will make this for sprinkling on top to enhance the taste of Swiss roll cake.
Put all the measured ingredients (sugar, cashews, almonds, and cardamom) into a mixer, and make a fine powder with it.
Exciting facts about Swiss roll cakes
They originated in Central Europe.

Swiss roll cakes have different names in different countries, like roll jelly cake, rolled jelly cake, and jelly roll.

In America, Swiss roll cakes are lovely called 'Chocolate Logs.'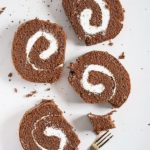 Print Recipe
Swiss Roll Cake Recipe
Ingredients
1

cup

cake flour

1/4

cup

cocoa powder

semi-sweetened

1/2

tbsp

baking soda

3/4

cup

sugar

1/4

tbsp

salt

1/4

cup

butter

4

eggs

1/2

tbsp

vanilla extract

1/4

cup

milk

1/4

cup

melted dark chocolate

1

cup

butter

1 1/2

tbsp

vanilla extract

2

tbsp

milk

2

cups

powdered sugar

200

gm

chocolate

100

ml

heavy cream

1/4

cup

granulated Sugar

3

cashew

2

almond

optional

1

cardamom

optional

1/2

cup

warm water
Instructions
Cool the sponge rolls that we prepared for a while, and transfer them into a bowl.

Crumble the cake to make your work easier.

Blend it with milk (1/4 cup), and melted dark chocolate (1/4 cup). You can use warm black-coffee instead of dark chocolate if you prefer.

Use your hand to mix these, so that you can get a dough-like consistency. You can then add a little more milk if needed.

Take a rectangular-shaped buttered sheet, and spread the cake-dough on that equally.

Fill it with the fresh cream we made.

Roll it gently to make it as a roll cake (as you know), and pour the chocolate glaze on it. Make sure that the full part is covered.

Freeze the roll until the coating gets firm.

Once the glaze coating is set, take that out, and sprinkle the sweetener we made.

Decorate the cake with cherries or strawberries to give it an awesome look, and enjoy a delicious dessert.
That's all. Cut the cake into slices for it to be ready for the tables.
If you like this sponge cake preparation, then provide your comments below in the comment section.
---
Do you think of following us on Pinterest? Check out the latest pins here.
---