This post may contain affiliate links. Please read my disclosure for more info.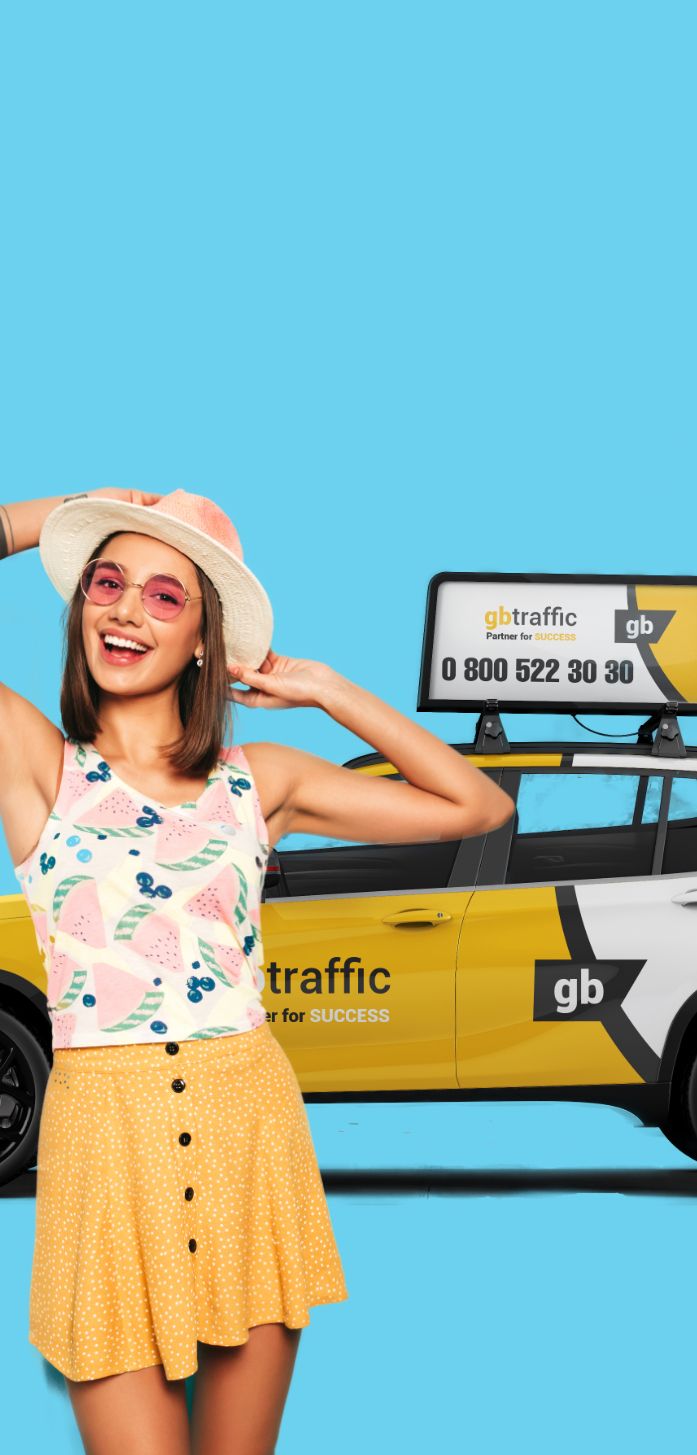 Want to earn some money passively?
Then this article is for you.
You don't have to take in passengers or deliver food orders to make extra few bucks. You can easily earn money by driving your car in the way you usually do. It's that simple.
Sign up for car wrap advertising to transform your car into a moving billboard. Anyway, you drive your car. Why do you leave free money coming your way?
Also, car advertising is one of the easiest ways to make extra money.
How much can you get paid to advertise on cars?
You can easily make $400 per month for advertising on your car. Some companies can still pay you up to $1500 per campaign. Generally, how much you can get paid completely depends on the style of the wrap and ad campaign length.
The campaign length typically ranges from two to six months. Some companies can still allow you to advertise for anywhere between two months and two years.
Making an extra $400 per month won't get you rich, anyway. I also suggest you take another side hustle or work from home jobs to earn big BUCKS. This can help you if you don't want to drive your car around with ads.
If you want to make decent money on the side, learn how to start a blog, and make money online here. If you hesitate to start or don't want to go through the hassle of setting up one, get our free support, including free themes, free initial setup, and free monetization suggestions, and save $399.
Coming back to the point, you can use $400 to pay your gas bills, grocery bills, and so on. You can absolutely make use of this opportunity if you're on a very tight budget.
Why do companies put ads on cars?
The world's first digital vehicle wrap is believed to be made for PepsiCo in 1993, with vinyl used to wrap a bus.
Companies find car wrap advertising cost-effective when compared to available billboards or other advertising models. Many brands are using car wrap advertising to get the maximum exposure they want to reach for their products.
You have probably seen all of them yourself – cars wrapped with bright red bull ads, bud light lime ads for new brand awareness, FM show ads to increase listenership, etc.
Most companies are paying for ads to increase their revenue. Even if you start a business in the future, you would probably do this to get the maximum number of clients you want, to see more profit.
The companies expect you to cover or wrap your car with vinyl, and it's an easy one to remove or replace with other ads. So, you don't have to worry too much about this process. You can easily put ads for many companies. 
As a moving billboard, car advertising helps companies get clients from all over the places in the city. Thus, they can gain in the long term. So, they don't have any problem sharing a small percentage of profit with you 🙂
How to get paid for advertising on cars
A small effort can help you advertise on your car for companies. Follow the following simple process if you have "how to get paid for advertising on cars" on your mind bubble.
1. Find out the best car wrap advertising agency
There are several car wrap advertising agencies present in the market. You can access them all online, and it's an effortless way to approach them. The agency acts as a middleman between brands, and you, and they take care of the technical details of the advertising process.
You need to be picky when choosing a car wrap advertising company since scammers are increasing in this market. It would be best if you advertise for an agency for the longer term.
2. Evaluate yourself
Car agencies select qualified people to advertise for their brands. They have specific qualifications, and if you meet those, you can start advertising soon.
Many factors such as age, car model, routes, and others play significant roles in the selection process, so you have to make sure that you have all the qualifications.
They also check the car's quality and how it will best suit them.
If you're a person who takes a car only once a month, you probably have a hard time getting selected by them.
3. Drive the car with ads
If your application gets approved, the agency will ask you to contact the wrapping service provider. You have to get your car wrapped with ads partially or fully, depending on the contract.
Now, you can drive anywhere you want, as you normally do with ads placed on your car. But, you simply have to drive! 
If you don't drive for a month, as it's mentioned in the application process, you will be kicked out of the campaign.
Some companies require you to keep the GPS device or install an app to help them keep track of how long and where you travel. So, it's super important to know what they want and what you can do.
4. Claim your payment
Now, you can make money by advertising on your car without causing any extra effort other than applying for it. The duration of the campaign determines the amount of money you can make.
Companies can pay you more if you can help them more in advertising their brands. 
The campaign duration can go from two to six months, while some may stretch up to 2 years. Though you can't get rich by doing all these, you can use this to pay your monthly bills.
Get paid to advertise on cars with these 6 companies
Wrapify is the company that best suits you with brands all over the nation, and it pays you how far you drive. If you spend at least 25% of your commute in the advertiser's selected area (campaign zone), you can make money from this agency.
Wrapify pays $0.3 to $0.8 per mile you drive.
You can make $264 to $452 per month when you advertise with a full wrap coverage level, while you can earn $196 to $280 per month with a partial wrap coverage level.
To start with Wrapify, the process is straightforward. You can easily download the app, accept the campaign offer, agree to driver terms and conditions, submit a background check, take 4 pics of your car, select an install shop location, get the install appointment, get the ads placed on the car and make money while you drive.
You can simply install the app and start driving for Wrapify. You can apply for Wrapify if you meet their requirements. Basically, you have to pass a background check, drive a car not older than 2010.
You can get your application approved from Wrapify in 2 to 3 days, and you will get paid every Friday through direct deposit.
Pros:
1). Easy payment – Wrapify pays you every single week.
2). Comfortness – You don't have a minimum number of miles you have to drive daily.
Cons:
1). Newer car models required – Only cars newer than 2010 are allowed in Wrapify.
2). Background check – You must pass a background check that Wrapify will do.
This Delaware-based advertising company – Carvertise, is one of the most popular car wrap advertising companies in the nation. It pays $100 per month to wrap the cars with the ad decals. You can earn $350 to $1500 per campaign with Carvertise.
You can choose your brand and advertise for them, but you only have a few different brands to select depending on your area. One of the best things to say about Carvertise is that it has a vast number of clients, thousands of brands collaborating with them.
Their application process is simple and requires basic details such as name, email, and phone number. And, they can match you to the best brands based on matching routes provided by you.
You still have earning potential if you park your car in a dedicated area during the allotted time. If you don't like the campaign, you can decline it when you want to.
You must own a car newer than 2008 to be eligible for applying with Carvertise.
Pros:
1). More opportunities – You can earn money even while you park your car.
2). Comfortness – You can choose your brands and decline the campaign whenever you want.
Cons:
1). Newer car model required – Only cars not older than 2008 are allowed in Carvertise.
2). Must drive 30 miles per day – You should drive 30 miles per day to make money from Carvertise.
Nickelytics is the other best company that can pay you $175 to $250 per month for driving your car around with the ads. Pay varies depending on the type of advertisement and length of the campaign.
There are three different options for wrapping your car: Rear Windshield, Full Wrap, and Light Wrap. You can choose any of these options and start riding.
You must have a car newer than 2010 to start the ride and make money. You can start applying for them simply by downloading their app and completing their sign-up process.
It also allows you to earn more if you are more of a person who travels 900 miles every month. Why I'm telling you this is because I used to travel 60 miles a day up and down for work 🙁
Once Nickelytics approves you, you will be notified where to go for installing the wrap on your car. Normally, this will take 5-7 business days to complete all the processes and start making money.
Pros:
1). Earn More – You can earn up to $500 per month with this company.
2). Variety of wrapping options – The company offers three different wrapping options, and you can choose any one of them.
Cons:
1). Newer car model required – You can only use cars newer than 2010 to start driving.
2). Must Drive 30 miles per day – This company expects you to drive 30 miles per day to earn money.
3). Availability – You can't find this agency in all the cities or states.
Sticker Ride is another company that connects brands with drivers and allows you to make money through their advertising solutions. You need to download the app, register the car, choose the campaign, visit their location, install the sticker ads, and start making money.
You need to activate the app whenever you start driving out, and this is the way the company calculates the number of miles you travel to total the payment.
This company works based on points, so you have to score as many points as you can to make money, and it's mentioned as 1 point = $0.1 on their website.
It pays you for every mile you drive, which is multiplied by the driver's tariff and equals one point. The tariffs can vary for each person depending on various factors such as location, decals displayed, time, and type of car.
You will also get more options such as taking part in "flash mobs" or "quests" where you have to do a certain task to earn more.
Pros:
1). Select your own ads – You can select your own ads depending on your choice and style.
2). More Earning options – You also have other earning options by doing small tasks, such as taking a photograph in a popular location.
Cons:
1). App must be activated before driving – The app should always be activated before driving to track the ride and calculate the payment.
2). Car requirements – Every campaign has its own set of car requirements, and you will not know until you apply for them.
ReferralCars offers you something different from its competitors – commission-based reimbursement on top of the money you get from them. You can increase your earnings from this company. 
It also helps small businesses advertise their brand with a lower budget. You can start the campaign by entering the zip code and viewing campaigns specific to your area. You only need to pay the shipping fee to receive the decal if your application is approved by Referral Cars.
To continue with Referral Cars, you only have to send the photos of your car on every 1st day of the month with the ads placed. Also, you have to place only the small decals on your car.
You can earn money within 90 days of accepting one of their campaigns or get a $100 gift card. They pay you through PayPal for advertising with them.
Pros:
1). Small Decals – You can place small decals received from the company.
2). Commission-based payment – You can choose between commission-based and non-commission-based options.
3). Earnings guarantee – You can earn from them within 90 days of accepting their campaigns or get a $100 gift card.
Cons:
1). Shipping Fee – You need to pay the shipping charges that are applicable for decal shipment.
2). Install the decal yourself – You should install the decal yourself after receiving it.
FreeCarMedia is the agency that connects advertisers with the drivers and pays for placing the ads on the rear window or full vehicle. Still, the majority of the time, they offer you to place ads on the rear window.
The company typically pays $50 per month for displaying ads on the rear windows of cars, while you can also get paid $400 a month if your entire vehicle is wrapped.
Once the application process is done, they will match you with the appropriate brands and send you the details. So, giving the full information on this company's website will help them to match you with the brands.
Typically, the campaign duration lasts from six months to 2 years.
If your application gets approved, the company will give you the details to wrap the car with the ads and start earning money.
Pros:
1). More Options – You can choose or decline the campaign at any point in time.
2). Rear Window Ads – You can place the ads only on the rear window of your car.
Cons:
1). Lower payout – You can only earn $50 per month for placing the ad on the rear window.
2). Longer programs – If you start working with this company, the campaign period can be from six months to two years.
Most common car advertising scams
You can find many scammers in almost all the money-making programs, but finding a legit one is the one you should always keep in mind before taking any further steps.
No one can pay big BUCKS for advertising on your car, so if you get any calls or emails claiming that they can pay you a massive amount of money, then it's SPAM. If any company asks you for upfront money to join their program, it's also another danger symbol you can think of.
One more common scam is a fake check. The SCAMMER will send you a check before running an ad campaign and ask you to transfer the money to the vendor. Once you make the payment, the check will bounce, and you will lose money.
What to do? Avoid these kinds of check offers and don't transfer the money even if you get a check.
Always check the following to find out the scammers:
No upfront fees

– There shouldn't be any upfront fees or annual fees you have to pay for the legit car advertising company.

Wrap cover fees

– The legit advertising company will pay you to wrap/remove ads on cars.

Application process

– The genuine agency has a formal application process asking you to submit the details such as background check, age, car type, car insurance, etc.

No false claims

– If any advertising company claims that they can pay you a huge amount of money for advertising with them, it's a false claim.

Customer Service

– The legit companies always have the correct contact details to contact them if you have any questions when you're just starting out.
Are there any other ways to earn money with your vehicle?
You can also find other ways to earn money with your vehicle, and they are Doordash and Postmate. Using these applications, you can deliver food, and groceries to the households in your city.
If you don't want to go out to make money using your car, you can simply rent it out using Turo.
Key Takeaways
Getting paid to advertise on cars is a legit way to make extra money without putting in any effort. You can take this opportunity if you're a person who wants money to come all the way.
If you're a person who is not comfortable with putting those sticky ads on your car, then this gig is not right for you. The campaign usually runs from two months to two years. Also, you can't sell your car while your campaign is ongoing.
This is not a serious side hustle you can take because the money you earn through this method isn't stable. If you want to make money consistently, there are so many other options available.
You can absolutely consider taking this opportunity to pay utility bills and nothing more than that. If you can correctly find the companies and avoid the scams, you can start making money using this method.
---
Want to share this post on Pinterest? Pin the below image to boards: 'Passive Income Ideas' or 'Passive Income Streams' or 'Easy Ways To Make Money' or 'Make Extra Money'.
---
Want to start a blog and make money? Join our 6-day free email course: How To Start A Blog and get a free ebook: Affiliate Marketing – A Complete Guide.
---
Do you think of following us on Pinterest? Check out the latest pins here.
---