This post may contain affiliate links. Please read my disclosure for more info.
Food is the primary source that gives us energy. We can't live without it. But in this fast world, we are so busy with our jobs that we get no time to cook food at home. 
Most of the time, whenever we can't find time to cook at home, we order takeout. The case actually becomes worse for busy moms. Their situation will be really hectic and troublesome. 
But, you know, there are several dishes that we can easily make. And among these recipes is the instant pot wild rice soup recipe. Actually, the best part of this is that it will give you a lot more nutrients and be effortless to cook. 
Of course, it will take around 50 minutes to prepare the soup fully, but it will be elementary.
Main reasons to make instant pot wild rice and mushroom soup
I can't give you any particular reason for cooking this soup, but I want to share what I feel: it is one of the easiest and quickest recipes you can ever make. 
Although it takes time to cook, you can just set the soup in the pot and concentrate on other important things while it is cooking.
It is healthy and tasty, so you can prepare it and have it anytime, including on special occasions, like evening parties, dates, etc. If you want to impress others with your cooking style, it is an excellent option.
Okay, let's dive into the steps to prepare this warming and mouth-watering instant pot wild rice mushroom soup.
Benefits of the basic ingredients
Wild rice
I imagine most of you will know pretty well about the extraordinary benefits of wild rice. However, I would like to tell you some crucial things about it. For instance, it acts as a fantastic anti-oxidant and detoxifies your body to a great level.
Its high level of nutrients and vitamins boosts your metabolism. More essentially, it fills your belly and gives you energy as well. So, you can feel warmed up and active whenever you consume wild rice, including in wild rice instant pot soup.
You can buy wild rice at supermarkets. It most likely won't be available in some stores, and you should have to look for it with wide eyes in order not to miss it. And if you can't find it anywhere, you could order online.
Carrots
They contain a surplus amount of vitamin A, and when you eat carrots on your daily diet, you can get rid of eye problems, for sure.
However, don't eat too many of them, just one per day.
Potatoes
You will get resistant starch, vitamin C, potassium, and so on when you consume potatoes. More importantly, it works as an anti-oxidant agent.
I guess patients with diabetes will not have potatoes on their diet list, yet there is nothing wrong with eating a small amount. Have some, and go for a brisk walk afterward.
Green peas
Being rich in several vitamins, minerals, and proteins, peas provide you with tons of benefits. Also, they contain anti-oxidant elements.
Mushrooms
Mushrooms are filled with a bazillion of nutrients, including proteins, vitamin B, selenium (an anti-oxidant element), and potassium. 
Moreover, it helps to prevent cell and tissue damage, and it can be used as an excellent alternative for non-veg if you want to avoid that.
Celery
Since it is packed with a high source of anti-oxidants, it cures inflammatory diseases. Mainly, it helps ease your digestion, too.
Types of wild rice soup instant pot recipes you can make
Actually, the types of soup depend on our wishes, I believe. But you must know about some of the yummy varieties to ease your work and save your tongue. So, check out the combinations you can prepare.
You can make Instant Pot Wild Rice Soup with dried beans (with or without mushrooms), or you can go with shredded chicken. Finally, if you want, you can prepare the soup with ham, too.
How to make this dish in a crockpot
Suppose you don't have an Instant Pot at home; no worries at all. You can cook this dish in a crockpot, a regular pressure cooker, or any other big pot. Follow the same instructions. The timings might vary slightly, but you can really have a nice and delicious soup.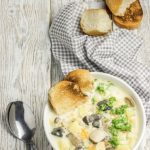 Print Recipe
Vegan Creamy Instant Pot Wild Rice Soup
Ingredients
1

cup

wild rice

2

cups

water

1

cup

mushroom

1

cup

carrot

cut into rounds

1/2

cup

green peas

1

cup

celery

diced

1

cup

potato

diced

2

tbsp

cooking oil

1/2

cup

onion

sliced

1/2

cup

shallot

sliced

6

cloves

garlic

smashed

salt

1 1/2

tbsp

powdered black pepper

1/4

tbsp

red pepper flakes

5

cups

vegetable broth

1 1/2

tbsp

poultry seasoning

1/2

tbsp

thyme

1/4

cup

parsley

2

bay leaf
For Roux Or Thicker
1

cup

coconut milk

2

tbsp

corn starch
Instructions
Take a bowl, put in all the vegetables (carrots, potatoes, peas, mushrooms, and some onion slices), and add poultry seasoning, salt (as much as you like), black pepper, and red pepper flakes.

Mix them well, and let them marinate for 10 minutes.

Heat the Instant pot for 5 minutes.

Select "Sauté" mode, and pour the cooking oil.

Add the bay leaves, sliced onions, shallots, garlic, and thyme. Sauté them until they turn into a light brown color.

Once they are fried, add the washed wild rice, marinated vegetables, vegetable broth, salt, and water.

Cook them at high pressure for 45 minutes.

While it is cooking, prepare the roux.

Whisk 2 tsp of corn starch with 1 cup of coconut milk.

After making sure that the pressure is fully released, open the lid, and stir the soup (if you feel like it is not cooked well, you can boil it some more, like 5-10 minutes).

Enjoy the aroma, and stir the thickener in. Allow it to cook for 10 minutes.

Finally, garnish the soup with some fresh or dried parsley.
Notes
If you want the soup to be more creamy, blend 3 – 5 soaked cashews, mix nicely with the soup, and boil it for 2-3 minutes.

If you don't have corn starch handy, you can sub that with all-purpose flour or chickpea powder. It will be tasty too, but there will be a slight difference in the taste.

If you don't wish to have overcooked vegetables, you can cook the wild rice for 30 minutes at high pressure, first (after sautéing the things mentioned above) in the ratio; 1 cup of rice, 2 cups of water, 1 cup of vegetable broth and one teaspoon of salt (don't worry about the marinating process; you could leave it for 30 minutes too). Once the rice is semi-cooked, add the other ingredients, and set it on high pressure for 15 minutes.

If you want to make the soup spicy, sprinkle some powdered black pepper at the end. This soup is mostly tasted with crusty bread. So, don't forget the bread.
Please provide your comments below in the comment section if you'd like to make this soup preparation.
---
Do you think of following us on Pinterest? Check out the latest pins here.
---